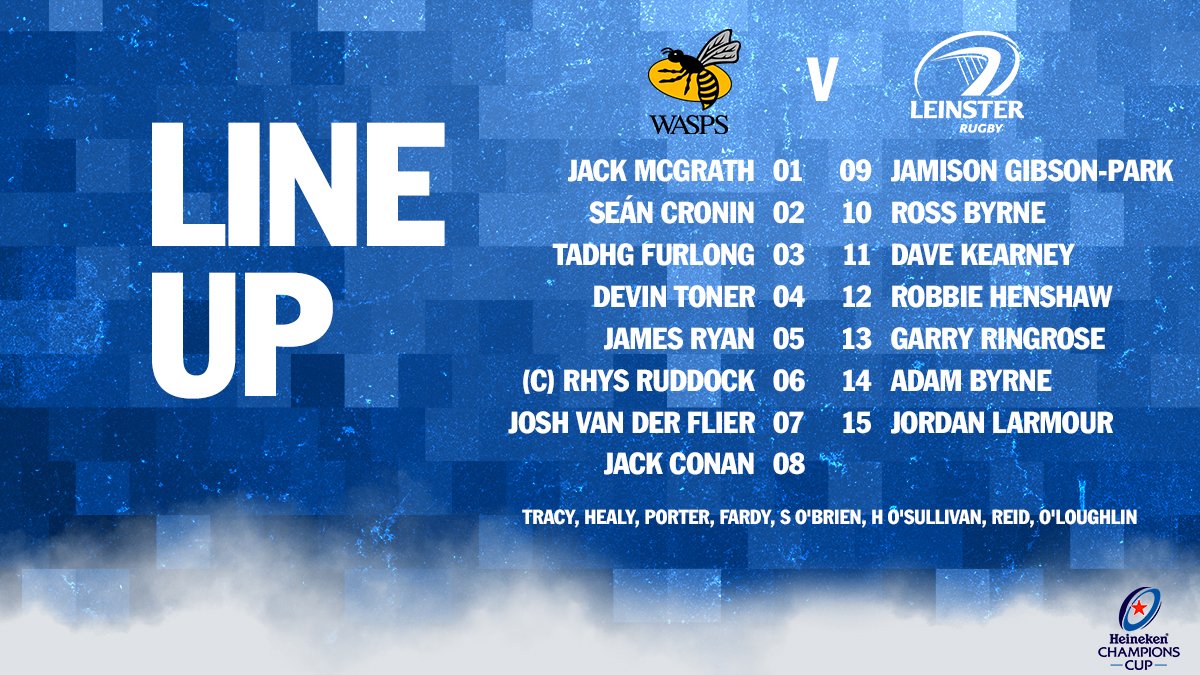 Why am I so glass half empty about this match? It's a feeling that has been gnawing away at me all week that there's a chance it could go against us despite all common sense pointing to a comfortable away win and home quarterfinal.
Take your pick from the fact we're reigning champions, we
easily beat the same opposition back in October
, a so-called weakened side put a
5-0 match point split on Toulouse
only last week…
I know, to have any kind of doubt makes no sense. Though it's not like my prediction is going to be that we'll lose…officially I'll say we're going to win, it's just my caution gene kicking in I suppose, maybe because it is forcing me to irrationally remember the final round
thrashing we endured at the Ricoh Arena in 2016
?
Well one thing I can say about my doubts; they took a bit of a bashing when I saw our matchday squad. For me the best names I can see on the team sheet are those of Noel Reid and Rory O'Loughlin at 22 & 23 respectively, because their involvement prevents me from feeling too badly about being overjoyed that Robbie Henshaw is back at 12.
In the Darce/Drico era, many different players had good outings when either was unavailable, but barring a minority of those with an 'anyone but Leinster' vibe about them, Irish fans would feel more comfortable when a XV could be built around that centre pairing.
Now while Henshaw and Ringrose are both very different players and Leinster and Ireland play a different (
or should I say 'slightly more evolved'?
) style of rugby, the importance of them being together cannot be overstated and I'll be sure to have fingers, toes and eyes crossed that they can remain fit for the big matches right the way through RWC2019.
But Robbie is not the only welcome returnee. Fresh from his OLSC t-shirt ceremony at the RDS last week, Big Dev Toner is back, ironically just as the Indo posts an article about how James Ryan and Tadhg Beirne have been assuming the lineout calling duties for their provinces.
If I'm wishing anyone good luck on the injury front it has to be Sean O'Brien; he's on the bench for this one as last week's starting back row deservedly gets another go, but he's likely to get a decent run in the final quarter and I presume if he gets through it then a start against the Scarlets on Friday.
One area where our injury fortunes have gone in the opposite direction is at scrum half. Luke McGrath's absence means that Jamison Gibson-Park gets the start; I was full of praise last week for his initiative in taking a quick tap and laying on our crucial bonus point try via Adam Byrne, though this time around I feel he needs to rein in those instincts and resort to a more methodical approach in support of Ross Byrne.
Our back three also remains the same as last week, which is no surprise as they were in amongst the tries. Last week I thought we showed remarkable restraint in holding back our kicking game but this time around weather permitting we could probably go to it more often as we have such quality chasers and receivers on show.
Finally when it comes to our bench, while young Hugh O'Sullivan would be making his European debut if called upon, we are insanely strong in our reserve forwards so we should be looking good up front in the closing stages.
I haven't mentioned any Wasps players yet; no doubt they will be keen to avoid a second humiliation at our hands but at this stage you'd have to assume their Premiership standing would be more of a priority to them.
Actually if I were to be worried about anyone it would be referee Mike Adamson. In the Pro14 this season he has struck me as perhaps a tad too indecisive at worst, or not communicative enough at best. If he looks set in the early stages to have a 'homer' afternoon we could struggle.
But like I said earlier, overall my fears are based on nothing but superstition, and one advantage I neglected to mention was that our match being on Sunday means we will now exactly what we need to do. Chances are Sarries and Racing will lock down the top two seeds but at least we know any kind of victory will secure us another last-eight clash at the Aviva.
I'm going to say we'll do it, though thanks to my unfounded anxiety I'll say not by the 18 points the bookies are predicting, rather a slightly more restrained 10-12. That said, if we play the way we can and get the right breaks, a much wider margin would not surprise me one bit.
Best wishes also of course to the other provinces this weekend; here's to all four getting out of their pools! JLP
---
Wasps : 15 Rob Miller 14 Josh Bassett 13 Michele Campagnaro 12 Gaby Lovobalavu 11 Elliot Daly 10 Lima Sopoaga 9 Dan Robson
1 Zurabi Zhvania 2 Tom Cruse 3 Jake Cooper-Woolley 4 Joe Launchbury (c) 5 Will Rowlands 6 Brad Shields 7 Nizaam Carr 8 Nathan Hughes
Replacements 16 Ashley Johnson 17 Ben Harris 18 Will Stuart 19 Charlie Matthews 20 Ben Morris 21 Craig Hampson 22 Billy Searle 23 Marcus Watson.
Heineken Champions Cup 2018/19 Round 6
Sunday, January 20, 2019
KO: 3:15pm
Ricoh Arena
Referee: Mike Adamson (Scotland)
AR1: Lloyd Linton (Scotland)
AR2: Keith Allen (Scotland)
TMO: Neil Paterson (Scotland)