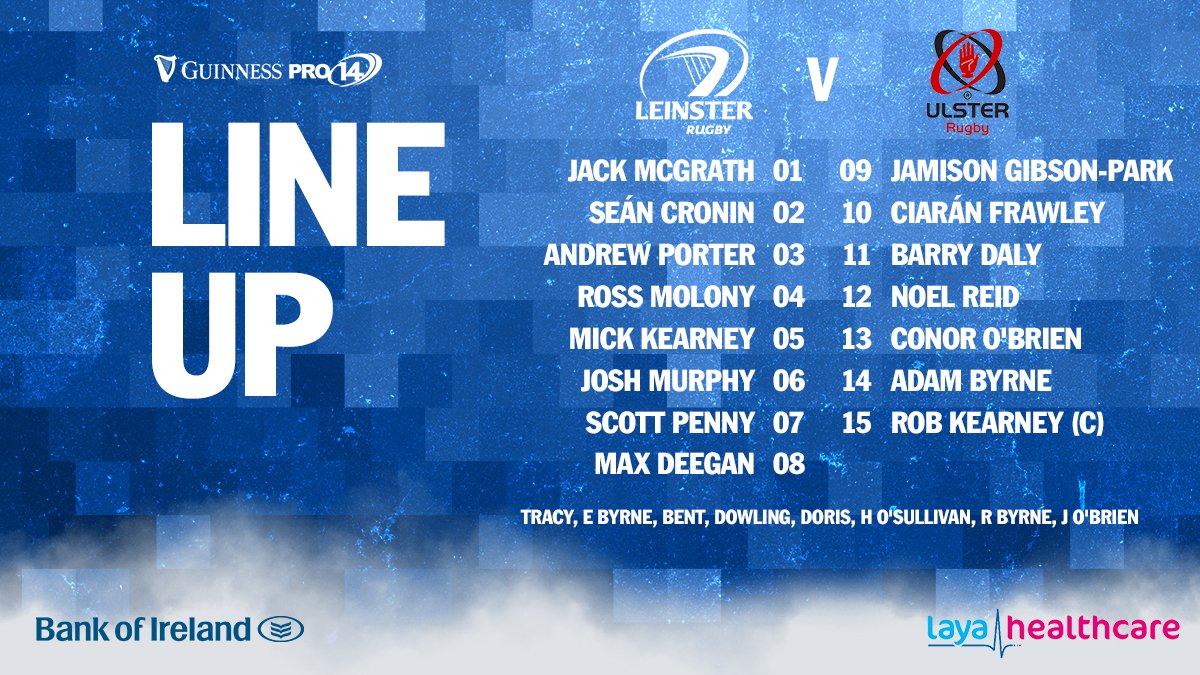 Some call it 'Player welfare management' because of what it's designed to do, others call them 'Schminutes' because, well, that's a clever way of pushing two words together. But pretty much everyone who knows Irish rugby generally knows it as a necessary evil.
I suppose what's most frustrating is that we're generally left in the dark when it comes to predicting what players are going to be available for matches at the weekend, save for a few crumbs thrown via an update during the week.
Then again, if the system is to work, it makes sense to keep cards close to the chest, partly to keep the opposition guessing as well as the fans, and partly to avoid smart-arse bloggers like me trying to suggest we could allocate the rationed playing time more efficiently! 😉
And so we come to this weekend's final interpros of the seasonal block, with these two lineups making it a virtual 'A' fixture thanks to a combination of said test squad player management and the impending scrap for Euro quarterfinal slots.
That doesn't make the fixture any less compelling that it would normally be, however. For one thing, whatever about the lineup they have sent down the M1, Ulster could really do with a win, not only because of it being a rare thing for them at the RDS, but also because they now find themselves in second spot in Conference B and they can't assume the Scarlets' December demise is going to continue.
Meanwhile on Leinster's side, while things are definitely looking rosy in the Pro14 with a whopping 16-point cushion atop the standings despite last week's
shamozzle-fest in Thomond Park
, the nature of that loss is something which needs to be purged from our performance. Maybe the individuals are very different this time around, but you can be sure the expected standards will still be sought.
We seem to have a perfect starting point from which to build a game plan - in a lineup with much youth, having three Grand Slam winners in your front row certainly can't hurt. Then with the likes of Molony and Deegan good in the lineout and even young Scott Penny showing an ability to turn 5m lineouts into tries, we have a very good shot at locking things down at set piece time all going well.
Then in the backs we have last season's top Pro14 regular season try scorer Barry Daly back in the lineup, with Adam Byrne's prowess under a high ball on the other wing and another welcome returnee Rob Kearney skippering the side with his safe pair of hands.
Our centre pairing as always will be key. Both Noel Reid and Conor O'Brien have impressed with the ball this season but it will be in defence where we will need them most - Ulster may also be keeping marquee names back but still those like Lowry, Cave and Kernohan can find the score sheet if they're allowed.
Finally there's our halfbacks where once again Jamison Gibson Park finds himself in a position of seniority. Hopefully he won't shy away from making the odd sniping run but most of all he'll be needed to provide young Ciarán Frawley with enough quality ball to set the right kind of tempo we'll need.
The bookies have us winning by a whopping 23. Of course I'd love to see that an it would put us a whole lot closer to a home semifinal even though its only the first game of 2019, but after last week, if we do achieve that kind of margin, I'll be equally concerned about how we got there.
With Alan O'Connor captaining the visitors, I'd be surprised if they didn't try to needle us in the opening stages to see if there isn't any residual anger left in our squad, so we'll have to assume Leo & co have tried to prepare 23 blue-clad angels (within reason of course) in an attempt to restore order.
If, as I'm expecting, we can both secure set piece ball and keep our noses clean in the early stages, then there's every possibility that we could notch up a decent victory. But if things don't click for us then the longer the match goes on, the more confident our visitors will become.
With that front row I'm going to lean on the side of the positive and say we'll finish on top, maybe not by as much as the bookies suggest though; I'll say around 16-18pts, though it could be high scoring.
All things going well I plan to be taking part in a project organised by former Harpin contributor and current weekly online chat show host Big Joe Shep during this match; keep an eye on our social media channels between now and kickoff for more details.
Otherwise hope to see you at the RDS and here's to another quality interpro to start the new year!!!! JLP
---
Ulster : (15-9): M Lowry; R Lyttle, D Cave, J Hume, A Kernohan; J McPhillips, D Shanahan;
(1-8): K McCall, A McBurney, W Herbst, M Dalton, A O'Connor (captain), G Jones, S Reidy, N Timoney;
Replacements (16-23): J Andrew, A Warwick, T O'Toole, C Montgomery, C Ross, J Stewart, B Houston, P Nelson.
Guinness Pro14 2018/19 Round 13
Saturday, January 5, 2019
Referee: Andrew Brace (IRFU)
AR1: George Clancy (IRFU)
Live on eir sport 1, Premier Sports 2, SuperSport 1